ONLINE EVENT
Hosted by IDG/CIO.com
IT Modernization:
a Must-Have in Uncertain Times
Why you should watch
Understand why the time is now to continue on the modernization path
Find out how, in uncertain times, you can achieve higher productivity, lower costs, and increased business agility across your IT teams
Get answers to your most pressing digital transformation questions
Why Modernization is Even More Critical to get through This Crisis
Learn how opportunity presents itself even during difficult times, and IT leaders are now seeing the drive toward digital transformation and modernization will set up their organizations for success when we get through this. There are also shorter term benefits to continuing to invest in these areas: higher productivity of app developers, data science teams and DBAs, lower infrastructure costs, and increased organizational agility. The Robin application automation platform can help you stay on course toward these goals, and we'll share how several companies have already seen dramatic results. Please join us!
From the Robin team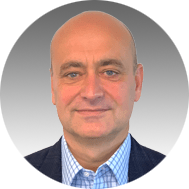 Chief Customer Officer & VP of EMEA Sales
DIRECTOR OF PRODUCT, ROBIN.IO
Simone Sassoli leads the Customer Success organization at Robin.io. He is responsible for go-to-market and support activities that help customers solve fundamental deployment challenges for Big Data, Databases, Search and Indexing, and AI/ML applications.
Online Event
BY ACTUALTECH MEDIA
Enabling Public, Private, Hybrid, and Multi-Cloud Adoption and Migration
Why you should join
Learn about the most innovative cloud solutions for the enterprise
Find out how you can transform availability, scalability, efficiency, and data protection in your datacenter
Get LIVE answers to your most pressing cloud migration and adoption questions from top experts
Have a chance to win a $500 Amazon gift card or an iPad Pro!
Building your own managed services on private/hybrid clouds
Learn how platform engineers and cloud architects can leverage Kubernetes to build in-house managed services with easy self-service provisioning and day-two operations. Developers expect the self-service experience and simplicity of public clouds to be translated to private and hybrid clouds. We'll discuss how private clouds need to evolve beyond infrastructure management and provide an "as-a-service" experience similar to Amazon RDS, Amazon EMR etc.
From the Robin team
Ankur Desai is a product management professional with over 13 years of experience in the enterprise software industry. At Robin, he is responsible for the go-to-market strategy for the Robin Platform. Prior to Robin, Ankur worked for SAP and MapR where he launched multiple platform products and led the product roadmap.